Many people ask about do birds have ears and if yes, then why can't we see them. Well, yes of course, they do have ears indeed. If you are unable to see them, it doesn't mean they do t have ears and cannot listen because if birds do not hear anything then how come you always hear their beautiful voices? Now you may be wondering about why I mentioned here the chirping of birds! Well, it's not a big deal since if you cannot hear, you cannot speak. This post is going to tell you not only that birds do have ears but also where are birds ear.
Do Birds Have Ears – Why Can't You See Them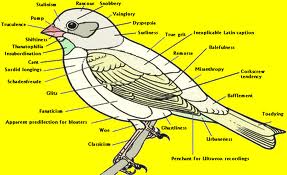 Just like humans, birds also have ears that are apparently akin to our ears but since they are enveloped with feathers known as auriculars, so they are barely visible. The birds' ears are quite evident but if and only if you detach heavy feathers on top of them. It is but natural that one cannot have a glance on to it due to special covering. This is primarily due to the reason that as they soar into the air, a strong gust of wind blows from all over its body and it becomes almost out of the question to pay attention to anything unless their ears are wrapped up. You may also experience the same while puff of air navigates your ears and you can hear nothing but current of air. Likewise, allowing their ears to get covered means they get rid of the nuisance caused by air currents while at the same time, enabling them to perceive sound of anything else.
It is now obvious that birds have ears but since they are heavily covered with feathers, therefore invisible. Now we've got the complete explanation about do birds have ears? Few flightless birds including penguins also have dense casing over their ear fissures and it makes them to go for a dip underneath the water without having any stress on their ears. Naturally designed for hearing, there are several kinds of birds that often track down their prey merely on the basis of extraordinary hearing senses like barn owls. Located on both sides of their skull, the size of ears is almost similar to the eyes and the underlying principle behind their fabrication is just like humans. However, as opposed to the flutters of humans, birds' ears solely comprise of a single hole.
More Birds Facts