Coming into question more prevalent than most concerns, is the safety of cannabidiol for pets. Reportedly there was an extensive study performed in 2011 to find evidence whether the compound could produce harmful effects, and the results indicated the substance to be safe, with a definition to the term "safe" as "nontoxic" with minimal side effects, if any – National Library Medicine/National Institute Health.
Regarding the addictive qualities, it's vital that people be able to comprehend the differences between CBD and THC. Marijuana is a strain of the cannabis plant that is high in the cannabinoid THC, which is the element that produces the "high" and can create an addictive response. According to research, it is safe to use Cbd oil for dogs and pets as well as humans. It doesn't get you high.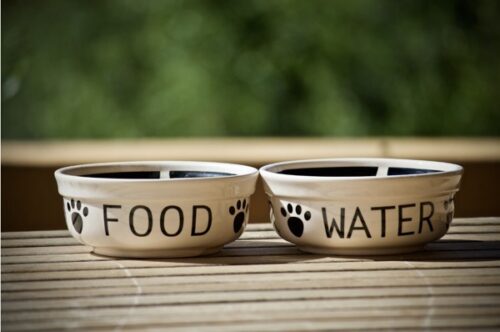 Hemp is another prominent strain, low in THC but high in CBD. CBD does not produce an intoxicating effect, making it neither physically nor mentally addictive, but it is of benefit in helping to treat people/animals who have addictions such as tobacco, alcohol, or psychostimulants – Journal Neuroscience.
CBD is expanding greatly in its relationship with pet health as to the list of conditions it is able to help. Read how its used in vet medicine. Studies are in very early phases and, thus far, have focused mainly on dogs, but anecdotally, the benefits are being seen in animals of every species and are widespread.
Cannabidiol For Pets And Bone Health
As in humans, pets suffer many of the same types of ailments, injuries, disorders, and diseases. Because CBD works comparably within the animal's body as it does within a person, the results, benefits, and effects are similar. The reason for this is that mammals share an endocannabinoid system of nearly the same makeup allowing the cannabidiol to equate its function universally. 
Bone Integrity: Pets sadly endure poor bone health, whether it be osteoporosis, bone loss, or broken bones in the same way as humans, particularly as age progresses. CBD promotes healing of fractures and boasts the capacity to prevent episodes of osteoporosis. 
The CB2 receptor, a part of the endocannabinoid process, is found within the musculoskeletal system, with the responsibility of stimulating the formation of bone and inhibiting loss.
Spine Health: Many animals suffer with spinal injuries, especially the dog species, as is true with the human population. The studies on spinal injury recovery using cannabidiol is still relatively new, but spinal cord injuries have shown improvements with movement when instituting CBD in the few studies that have been incorporated, thus far, in neurotoxicity. For "faqs" on CBD follow https://www.lavsguide.com/cbd-for-pets-faq-everything-you-need-to-know/# .
Pain: Cannabinoids offer pain relief for both dogs and cats by inhibiting pain perception and with the reduction of the inflammatory response. Claims suggest the compound to be nearly as effective as "morphine" in reducing episodes as challenging as tumor pain. Visit this site to learn more about CBD treats for dogs. 
One of the tumors causing the most discomfort for pets is bone cancer. Because of the capacity to help block the pain signals, CBD has been used to assist with the symptoms associated with this disease.
The bones seem to give, not only humans, but our beloved furry friends a lot of difficulty as age progresses. With the research that has been done so far on humans, and the few studies on dogs, it shows that cannabinoids are becoming vital in helping with bone health, particularly for those animals who are in the middle to later years of their lives. Moreover, visit this site to learn more about the use of cbd oil for dogs.
Final Thought
Advances in modern therapies, medications, and diet plans are making it possible for your pet to enjoy a longer lifespan. Unfortunately, in many cases longer lives mean enduring the common conditions that come with age typically relating to bone and joint disorders like osteoporosis, fractures, osteoarthritis, in turn, creating immobility and poor overall quality of life.
When extending our fur babies life, we want that time to be spent happy and healthy. With the efforts being made in cannabinoid research, these are showing to help combat symptoms and, in some cases, delay or even prevent common disorders. That includes the pain and inflammation relating to dreaded arthritis common among our older pets.
In doing so, cannabinoids like CBD can make animals feel better by improving their mobility, bringing them comfort, and enhancing the quality that they might have lost, making the longer lifespan a joyful experience.