Traveling solo can get a little lonely, so there's nothing wrong with wanting to bring a companion along. But while traveling with friends and family is certainly fun, who says you can only bring human companions with you? Indeed, having your fur baby tag along can make any trip just as enjoyable. It may even make your travels more memorable, as you'll get to share your experiences with a pet that's close to your heart. 
That said, there are some challenges you may face when traveling with a furry companion. For instance, not all establishments welcome pets. You'll also have to consider your pet's comfort throughout the trip, especially if you'll be in transit for a long time.
However, it's still more than possible to have a smooth experience while traveling alone with your pet. If you're curious to learn how to do this, here are a few tips:
Plan With Your Pet's Needs in Mind
First things first: always consider your pet's comfort and needs, not just yours. After all, you wouldn't want your pet to become cranky during your trip, as this can ruin the mood for both of you. And when traveling alone with a pet, it's up to you to account for everything your fur baby will need, as you won't have anyone else to share your pet owner responsibilities with.
To keep your pup in good spirits and health, you have to plan your trip strategically. Research the important things your pet needs to keep them happy and calm while you're traveling. If you'll be heading to a destination with cold weather, for example, it's a good idea to pack some custom dog coats to help keep your pup warm and cozy.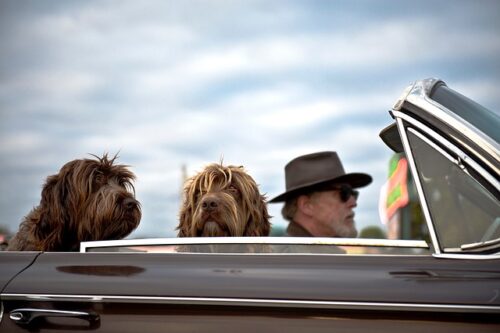 Have Your Pet Wear Its Identification Tag at All Times
Before you leave, check if you've attached your dog's identification tag to the collar they're wearing. The tag should contain pertinent information such as your name, phone number, e-mail address, and home address. That way, in case your pet gets lost or wanders off in the middle of the trip, whoever finds your fur baby will be able to contact you and help you reunite with your pet.
Research Pet-Friendly Establishments Beforehand
When traveling solo with your pet, you may find yourself in situations where your pet won't be allowed in certain places. And if you have to leave your pet outside a non-pet-friendly establishment, there won't be anyone else to look after your fur baby for you. If you're traveling by car, it's not advisable to leave your fur baby alone in the vehicle, either, as this can expose them to potentially dangerous situations.
Given this, you need to search for pet-friendly establishments—like restaurants and hotels—as early as possible. This means you'll never have to leave your furry friend unsupervised should you need to run any quick errands during your trip. More than that, knowing where you can find pet-friendly establishments will allow you to enjoy each moment of your vacation with your animal companion.
Be Prepared to Clean Up After Your Pet
If you're like any other pet parent, cleaning up after your fur baby is most likely your least favorite part of the job. Unfortunately, you still have to take care of this task this during your travels, as it's what any responsible pet owner is expected to do. This means that you'll have to pack the necessary cleaning supplies, too, such as pet poop bags, wet wipes, and gloves, to name a few.
You can also have your pet wear a diaper during the trip if they don't mind wearing them. Just make sure to change your pet's diapers often to prevent them from experiencing any skin irritation.
Take Frequent Breaks
Being inside a moving vehicle for extended periods can cause pets to become restless. If you'll be on a long trip, make sure that you and your pet take frequent breaks, whenever possible.
Unfortunately, there may be some places where pets aren't allowed to roam around. If you're on a road trip, try to look for a public park or even a parking lot where your pup can stretch their legs for a few minutes. If you're planning on taking a plane or boat to your destination, though, you won't necessarily be able to make these kinds of stopovers. If possible, choose direct flights or ferries to minimize the amount of time your pet will need to spend in a confined space.
Traveling with your pet can be a lot of fun. But before you embark on your journey, you'll need to make plenty of preparations. These include packing your pet's essentials, planning your itinerary wisely, and looking up pet-friendly establishments, among many other things. By keeping all the above in mind, you and your pet are sure to enjoy hassle-free travels, no matter where you plan to go.